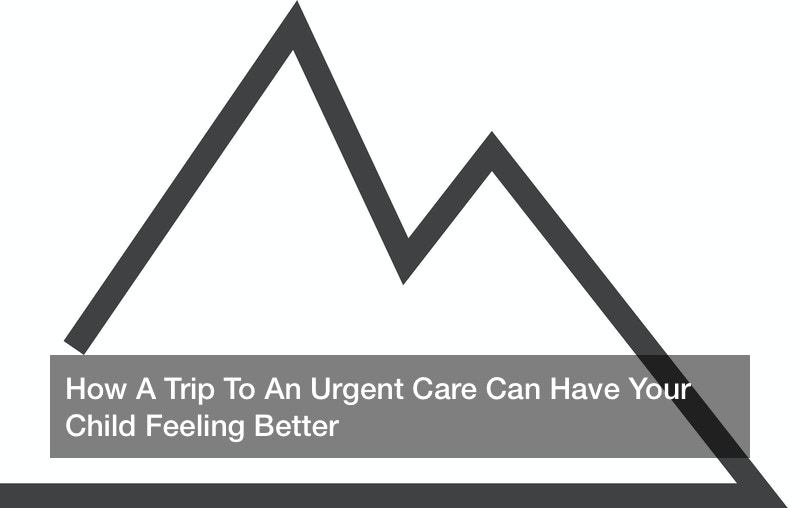 As a parent, there are few things more taxing than having a sick child. That usually means you're up all night, providing medicine and comfort, you're trying to help them deal with pain (especially in young kids) and you're worried about getting them somewhere where they can receive medical attention.

If you're wondering where to take your child for medical care, you've got several options. You can try and schedule an appointment with your primary care doctor or pediatrician. You can try the emergency room too. While there's nothing wrong with either of those options, you're likely going to be in for a bit of a wait. That's probably the last thing you're wanting, especially with a child who's come with a fever or has the flu. They feel awful and they just want to feel better. The sooner they can be, the better off it's going to be for the two of you.

So what the heck do you do? You visit your local urgent care facility.


An urgent care clinic is a type of walk-in clinic that can get you in to see a doctor fast and can treat many non-life-threatening illnesses and ailments. More than three million people of all ages visit urgent cares every week across America for a variety of medical issues.


Some of them might vary in the services they offer, but urgent care facilities offer a quicker and more cost-effective way to treat a number of common, everyday medical ailments. Urgent cares can treat everything from ear infections, sexually transmitted diseases, muscle strain, dizziness, sprains, common sports injuries and many other things.

In the case of children, like your little one who's feeling under the weather, an urgent care is the place to go for colds, fevers, strep throat, ear infections, pink eye, hand-foot-mouth disease, allergies and even caring for a child who has swallowed something they shouldn't have.

You might be wondering, why should I take my child to an urgent care? It's a fair question and your local urgent care facility can offer the following benefits to your child:
Having an on-site pediatrician
Having nurses, doctors and other personnel who are experienced at dealing with children when it comes to diagnosis and treatment
Equipment and resources to deal with issues your child might be facing
As if that wasn't enough, you'll get in a lot faster to see a doctor. More than half of urgent care facilities have a short wait time (about 15 minutes) and they usually stay open longer. Many of them are open until 7 p.m. (some are open later) and are also open on weekends more often than not.

For non life-threatening injuries and common, easily-treatment symptoms and conditions, an urgent care facility can save you time and money:

If your child is sick and you need fast access to medical care, you want convenient treatment options that are efficient and easy to get access to. Urgent cares offer just that. They're usually located in easy-to-find spots in your area and many retail clinics offer patients access to quick treatments such as flu shots and Z-packs. So if you're in immediate need of meds for your child, you can get in and get out with the goods to make your child feel better.

Urgent cares also offer treatment at much lower rates than you might find at hospitals. If you're on a budget, urgent care facilities work great because they offer price transparency, which means you can see how much different treatments and medicines cost before you buy anything.

Now you might be wondering, how do I decide when to take my child to an urgent care and when to take them to the emergency room? It can be a tough call, but ultimately you want to make the right decision. If your child is experiencing a serious medical issue, call 911 or take them to the ER right away. The last thing you want to do is roll the dice on your child's health. For less serious medical issues, an urgent care is probably going to be your best bet.