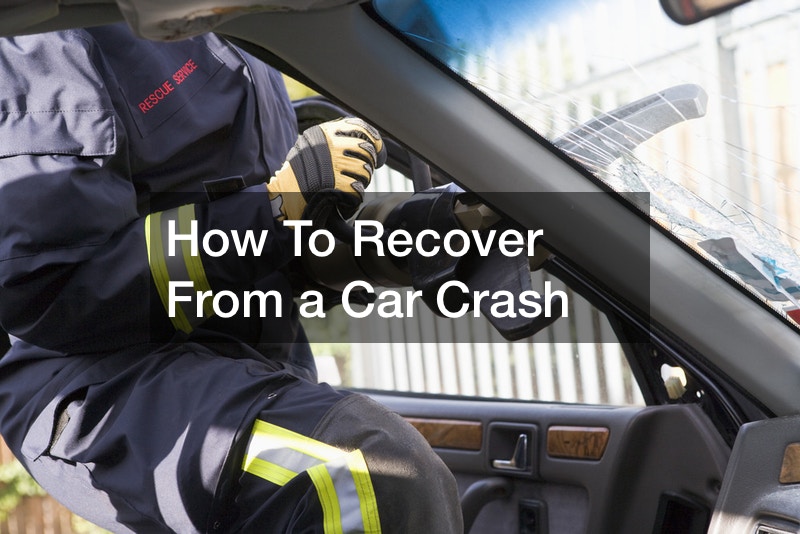 One thing with caution is that it's often one-sided and that can bring fear when the unexpected happens. As a motorist doing the best you know how to avoid getting involved in an accident could be the best advice you may have heard on preventing physical and property damage. However true that is, it's still incomplete. No wonder why recovering from an accident is such a difficult experience for most victims. Whether in the workplace or at home, accidents are naturally traumatic and unfortunately,…the same applies to a car crash. Good news is, there is a lot you could do to help yourself recover back to normalcy. Here are some helpful ways of how to recover from a car crash.
Visit Medical Professionals
When thinking about road accidents we often think about preventive measures rather than how to recover from a car crash. However when the unfortunate happens, the first thing you'd want to do is take care of your physical wellbeing as well as the emotional one. Whilst counselling services may be important in dealing with post-trauma disorders, you may still want to first call your doctor and have them examine you for any physical damages.Where car accidents are concerned this is what you need to expect: Shoulder pains from the shock of the impact t, leg injuries from objects within your car and mouth pain from tooth gnash.
Easing the pain can be aided by following the doctor's advice on what you can and cannot do whilst on medication, as well as adhering to pain depressant medicine. Your doctor may also advise you to arrange for therapy sessions at a local rehab and physical therapy center. When it comes to recovering from an accident rehab can be a requirement, and not just an option.There are many benefits to attending rehab sessions. Rehab and physiotherapy facilities are specially fitted with the best equipment that will help you exercise your muscles and regain your physical agility. Whilst you could do this at home, home-based distractions can be overwhelming and may prevent you from strictly following your regular routine workouts. Rehab and therapy facilities provide the best environment in helping you discipline yourself in following your therapy advice.Besides, rehab centers have expert medical assistants who are able to help you with physical therapy as well as monitor your progress. Mingling with other patients in similar conditions can give you comfort and hope as you relate your situations to each other. You can also become more positive about your recovery is you share your experiences and mutual emotional support.
Work on your fitness
Whilst you have joined the rehab group at specialist centers, it is important you keep on regularly attending therapy sessions. Physical therapy services can help you deal with your functional problems and prevent permanent impairments. Some of the crash-induced problems that physical therapists can help you with are fractures, neck and back injuries, and strains. Most people what they want best after involvement in a car crash is their proper mobility functions. If you share the same priority, no doubt physical therapy can have your needs met. Physical therapists can assist you regain your pre-accident functionality .Want a smooth journey back to your agile lifestyle? Physical therapy is just the right for you.
Forget about age variances or your locality. There are many physical therapists around the US that have expert knowledge on how the body functions and can best help people from all age groups return to pre-crisis normalcy. Instead of just relying on prescribed medication, physical therapy can also help address the root cause of the pain and help with your gradual improvement. Unlike surgical ops, it's far from being scary and has little to no risks. Well enough, therapists don't only teach you on how to recover from a car crash, but can also furnish you and your family members with critical information on things to expect during the recovery process. This reduces worry and makes it easier to manage the rehab process in and away from home.
Get Medigap Cover
What's most frustrating is to have your Medicare unable to cover your medical bills when you are going through a post-crisis experience. This is why you need to have a Medicare Supplement Plan. Although these no longer cover prescription drugs, Medicare Supplement Insurance provides unique benefits which fill the 'gaps' in your Original Medicare and you can get it from private companies. It can help you cover extra costs such as deductibles, copays and coinsurance. Medigaps cover individuals so if you also need one for your partner, you need to buy separate policies. These are good for short term coverage since they don't have a long term cover for things such as eyeglasses or hearing aids. Having Medigap cover before having an accident involvement is part of what you need to know on how to recover from a car crash. There are no regrets in being prepared.
Get the Best Technicians to Fix Your Car
How to recover from a car crash isn't only about your personal wellbeing, it also involves the wellbeing of your car. Some crashes may not leave physical damages on the passengers, whilst in most instances the car is likely to be damaged. Having your car fixed could be something on your priority list if you still consider it repairable and has a fitness potential to be road-worthy. What you need to recondition your car is auto collision repair. The automotive collision repair technicians can do some structural repairs on your automobile and get it back to proper functionality for your convenience. They also offer cosmetic repair services and refinish which can give back your car its original impressive outlook. Besides just making your car regain its impression, they can also fix the scratches and dents as well as other technical damages and have it recover its pre-accident condition. Safety is also guaranteed as they can make your car match up to the manufacturer's safety standards. This can make it satisfy standard legal requirements for road fitness and be quickly return to your service. So before you consider dumping or breaking up your car, perhaps you should make a few cold calls to the auto technicians found in your area.
Be insured
Just like how you install security systems to prevent burglary, it is advisable to take the same precautions when it comes to traffic accidents. Although insurance cover may not necessarily prevent accidents from happening, being insured is one of best tips you can get on how to recover from a car crash. On top of Medigap, you need to have auto insurance (mostly known as motor insurance) to help you recondition your vehicle after crashing it. It also comes with some medical cover which can help you increase your options in securing funding for your treatment and rehabilitation services. Car crashes often occur when you least expect them. This can be the best way of avoiding unplanned expenditures as you try to repair your vehicle after having an accident. Motor insurance can also provide cover for the damage or loss to any vehicle including two-wheelers and cars. Most states in the US now oblige motorists to have at least a basic form of motor insurance because they help with financial protection when you get involved in an accident. Unlike motorcycle insurance, it covers your property which includes your car as well as possible liabilities in damage to third parties. It provides reimbursement for the medical costs for the injuries sustained by passengers or yourself as well as lost wages expenses. It doesn't matter you've the financial muscle to take care of your damaged car, you never know the monetary value in repairing third party properties or taking responsibility for their bodily damages. With motor insurance rest assured you won't have to think about out-of-pocket spending when it comes to how to recover from a car crash. It's not too late to buy yourself a policy. Remember it's important to be always prepared for the unexpected and ensure your financial security in case of damages.
Have A Legal Representative
Getting involved in a car crash doesn't always mean you're to blame for the accident. Sometimes it's the negligence of fellow drivers. Having a personal injury attorney will help you get rid of the burden of navigating how to recover from a car crash on your own. Basically why you would need to hire an injury attorney is because you have suffered injuries. Post-crisis situations are often complicated by multiple responsibilities of seeking rehabilitation service and following up on insurance benefits. This isn't ideal for someone trying to recover physically from the injuries and emotionally from the trauma. The first thing that an auto accident lawyer will do for you is to establish whether you are entitled to any suffering or pain compensation among other financial damages. They can also assist you in getting medical benefits or payments for the lost wages you've legal entitlements to. An injury attorney can help you with all the complicated legal issues to make claims for the injuries made on you by another party to the car crash. Their expertise in tort law makes it possible for them to assist you in settling the matter or opening suit whilst maintaining they get the best outcome for you.
Take care of the financials.
Why you should consider hiring an injury attorney has even more benefits. Firstly, compensation for their services is paid on the basis of contingency fees which allow you to pay them after you have recovered your compensation from the party at fault. Secondly, … you stand a higher chance of getting a desirable outcome.If your personal injury case settles or goes to trial, your personal injury lawyer will fight tirelessly to obtain the best possible result for you. A personal injury lawyer is paid from the monetary amount you receive, which means the lawyer is not paid unless you receive compensation from the negligent party. They obtain all necessary evidence on your behalf, such as surveillance footage, police documents, witness statements, and medical bills, allowing you to establish supported claims. Making claims to the insurer of the liable party may be difficult for you given lack of experience or cumbersome process demands. Such an attorney can make demands to the liable driver's insurance company whilst you recover at easy. This not only serves you time, but also spares you the mental pressure that is involved in the process.
If you are not satisfied with the outcome of the settlement negotiations, you still have the privilege of having your attorney begin a lawsuit on your behalf. They will take care of the entire litigation process whilst keeping you updated on the progress of your case. In most instances, the desirable settlement often occurs before or during trial to your advantage. Even after your trial win or the settlement has been made, you still have your lawyer's services in arranging for the collection of the costs the liable party should pay. This can imply reaching out to the faulty party's insurance service provider and obtain the compensation check. Good thing is, all this happens without your active involvement as you would probably be nursing injuries or soothing pain as you try to return to your pre-injury condition.
Isn't this a done deal?
From now onwards how to recover from a car crash shouldn't be part of your anxieties. Employing these Six Strategies can help you get prepared before getting involved in a car crash. You can make your physical and emotional rehabilitation easier as well as handle financial implications with ease. This can help you enjoy your life post-crisis.