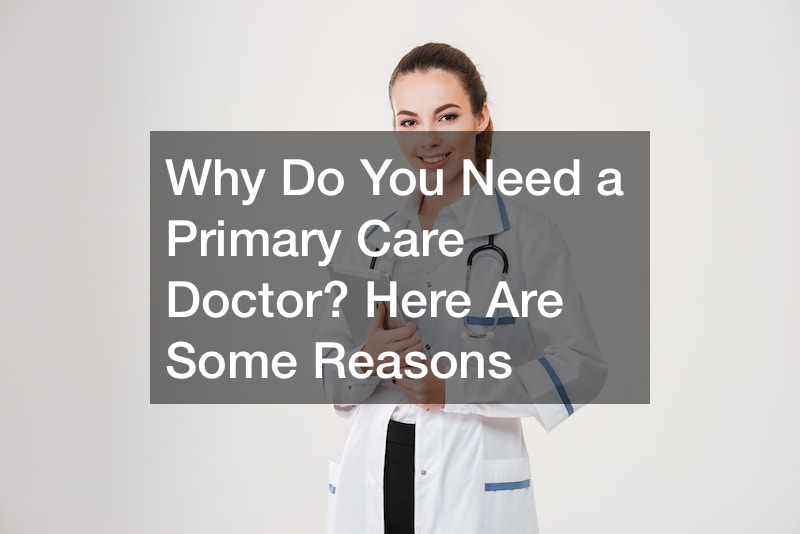 Although everyone hopes to have good health throughout their lives, sickness and injuries do happen. It's at these times that one can understand the importance of doctors. There are many different types of doctors, but you should have at least one doctor that you have on speed dial. This is where primary care doctors come in. Why do you need a primary care doctor? When you have a dedicated primary doctor, you have a healthcare expert that becomes your first point of contact for all your health-related issues.
According to the World Health Organization, primary care refers to the routine healthcare given by a qualified healthcare provider. This type of healthcare should be comprehensive, accessible, continuous, personalized, and coordinated. There are many benefits associated with receiving such healthcare. Read on as we answer the question, 'Why do you need a primary care doctor?'
What Does a Primary Care Doctor Do?
According to Harvard Medical School, a primary care provider (PCP) is a generalist doctor that treats adult patients. Since PCPs are generalists, they can treat you for a wide range of illnesses, and they have one of the most rewarding medical jobs. For the most part, your PCP has the important task of ensuring that you stay in good health. Even when you lead the most healthy lifestyle possible, you still need an expert that can guide you along the way because you may need medical care at one point or another. A PCP is a healthcare provider that can provide comprehensive treatment for common ailments. You can visit your PCP for any health issue, such as headaches, respiratory infections, and chronic pain.
Your PCP has the right training and knowledge to diagnose and provide treatment for multiple illnesses. They can help treat the whole person and advise you on the best course of action regarding your health. Keep in mind that your PCP is not just someone you see once-off. They're the kind of doctor you should establish a long-term relationship with because their job is to keep you in good health throughout your life. Since PCPs address health issues of all types, you can expect to be scheduling appointments that will address different aspects of your health. Now that you have a basic understanding of what a primary care doctor does, it's now time to provide a more detailed answer to 'Why do you need a primary care doctor?'
Have a Trusted, Go-to Health Expert
The first answer to 'Why do you need a primary care doctor?' is that it's good for your overall health when you have a trusted health expert you can rely on. For many people, navigating the healthcare system can be intimidating. The last thing you want when you're not feeling well is to start figuring out where to go and who to see. When you have a trusted primary care physician, you know the answer right away. You don't have to deal with the overwhelming task of searching for a PCP when you're sick. Having a good primary care provider you're friendly and familiar with will make the healthcare system so much easier to navigate.
One of the reasons why some people put off visiting the doctor even when they have an urgent healthcare issue is because they don't have a trusted provider to turn to. This can put your health in jeopardy because you fail to receive the healthcare you need at the right time. On the other hand, when you have a trusted provider you're comfortable with, it's easier to seek the help you need. The best providers care about their patients, and they even follow up on you periodically to ensure you're still in good health. Due to technological advancements, you can easily keep in touch with your PCP. For instance, there are HIPAA compliant telehealth platforms that can facilitate online consultations. Whether you want to schedule an appointment with your primary care provider for allergy testing or a prescription refill, or if you're dealing with an acute illness, you can trust that your doctor will give you the medical home you need for better health.
For Preventative Healthcare
One of the best things that your primary care physician can do for you is to provide preventive care. In fact, this is one of the most important answers to 'Why do you need a primary care doctor?' While it's good to know you can turn to your doctor when you're ill, it's an even better relief to know they can help you prevent illness. When it comes to your health, taking a proactive approach is often preferable to trying to find a cure. This is why it's highly recommended that you schedule routine screenings with your PCP. Regular appointments provide your doctor with the perfect opportunity to identify any potential problems.
A lot of health problems are much easier to treat when they're identified earlier. For instance, a cancer diagnosis is more likely to have a better health outcome if the diagnosis is made as early as possible. Therefore, you should never think of your PCP as someone who treats illnesses only and sends you to the pharmacy to get prescribed medicine. You should also see your doctor for regular checkups, tests, and screenings to give them a chance to catch problems with your health before things get worse. For instance, your PCP will ensure that you stay up to date on important preventive care such as cervical cancer if you're a woman or prostate cancer if you're a man.
Receive Personalized, Long-Term Care
As mentioned, your primary care doctor is a medical professional that can oversee your health issues in the long term. The long-term nature of your relationship with your provider can prove very helpful in ensuring that you receive personalized care. Remember, every person is unique, so your health treatment plans also need to be tailored. The sooner you find the right PCP for your needs, the sooner you can establish a medical home for your entire health history. When you find the right doctor, the doctor will eventually become someone who knows all about you from a health perspective. Your doctor will also know about you from a personal perspective.
They'll understand your preferences, your health goals, your beliefs, your medical history, your family medical history, the medication you're currently taking, plus a dozen more details that are pertinent to your treatment. That means they can provide a holistic treatment that addresses the physical, emotional, and spiritual aspects of yourself. Nothing beats having a doctor that intuitively understands your healthcare needs and knows you well. When your PCP knows so much about it, they're in a better position to provide personalized care. They can easily help you stay on track with your routine screenings, manage your health to lower the risk of chronic diseases, catch and treat health issues early, and address other health concerns more effectively.
To Save More Money and Time
Seeing your primary care doctor more often helps to protect your health. As a result, this can greatly lower your healthcare costs. If you were looking for a more motivating answer to 'Why do you need a primary care doctor?' this is it. The truth is healthcare costs can be quite high, and even if you have the best health insurance policy, you'll still have out-of-pocket expenses. When you visit your PCP regularly, you're less likely to have to pay for an emergency hospital visit, which can be quite expensive. Instead, your doctor will be able to identify health issues early, minimizing the need for costly emergency healthcare or prescriptions.
You should especially look for a PCP if you're at risk of developing a certain illness. By having a trusted healthcare expert that can monitor your health constantly, you prevent situations that lead to serious health issues. For instance, if you're diabetic, this helps reduce the risk of complications that can increase your insurance premiums and your out-of-pocket medical expenses. Another benefit of having a primary care doctor is that you can save time since you reduce the number of hospital visits by staying in good health.
To Better Manage Chronic Health Issues
If you have chronic health issues, then the answer to 'Why do you need a primary care doctor?' should be pretty obvious. You need a doctor that will make managing your health issues easier. Common examples of chronic health issues that many people deal with include diabetes, high blood pressure, arthritis, asthma, and kidney disease. If you suffer from any of these conditions, your primary care doctor can help you keep things under control.
For instance, they can prescribe the right medications that ease symptoms, and they can also give you the best advice on which lifestyle changes to make to improve your health. Additionally, they'll recommend a specialist that you can see if you need specialized healthcare, and they'll be there for regular checkups to monitor your existing issues. All in all, relying on your primary care doctor for the management of chronic conditions is one of the best ways to reduce the risk of complications that further affect your health.
To Ensure Coordinated Care
Although you'll probably see your primary care doctor more than any type of doctor, you may still need to see a different doctor from time to time. Your primary care doctor is there to ensure you receive coordinated healthcare. For instance, if you have multiple healthcare conditions that require an integrative medicine approach, having a PCP that knows your entire health history and your existing medical situation can communicate with other doctors to ensure you receive the right medication that won't affect your health or interact badly with medication you're already taking. Whether you need to see an auto accident injury doctor, a sports medicine professional, or a skin care specialist, your PCP can refer you to the right medical professional.
Get Help Living a Healthier Life
If you want a summarized answer to 'Why do you need a primary care doctor?' then it's because it helps you live a healthier lifestyle. When you lead a healthier lifestyle, you're happier and have more freedom to pursue the things you love and enjoy. Your primary care doctor can help you develop a routine to stay on top of your health. They're there for routine screenings which are designed to catch symptoms before your health is seriously impacted. Your PCP is also there to improve the quality of your daily life. If you already have a chronic condition, they'll help you manage it to improve the quality of your life.
Therefore, having a primary care doctor makes you healthier because you can receive ongoing preventive care and management of your chronic conditions. To get the most benefit out of having a PC, you should always know all the right times to schedule appointments, depending on your age and the health conditions you have. It's recommended that you visit your doctor at the first sign of illness because waiting too long increases the risk of the problem getting worse. If you have any pressing questions about your health concerns, you should also not hesitate to contact your doctor.
In the beginning, the question of 'Why do you need a primary care doctor?' was posed, and the information above should give you the answers and insight you need. Now that you understand the importance of having a PCP, the next step is to find the right medical professional for your needs. For starters, you should determine which local doctors are 'in-network' so you'll pay less out-of-pocket whenever you need to visit the doctor.
Additionally, you should do your diligence to find a doctor with enough experience and expertise to meet your health needs. To find such a doctor, ask for referrals and prioritize local doctors to avoid complicated logistics. You should also check the doctor's credentials, verify their reputation, and screen for things like medical malpractice lawsuits. Once you have narrowed down your options, schedule an appointment with the doctor and use the consultation to figure out if they're someone you can establish a long-term relationship with. When you find the right primary care physician, you'll no longer think about 'Why do you need a primary care doctor?' because you'll be experiencing the benefits first-hand.